April Month in Review | Resumen del Mes de Abril

April 2022
La versión en español está a continuación.

The last month has been busy and productive.
With the end of tax season, please be careful of scammers. My office will never call to collect money on behalf of the IRS and I urge you and other taxpayers to be aware of IRS impersonation calls, tax scam resources and report any incident to the appropriate law enforcement agency. To check the status of your refund, go here. If you have any questions or need additional help with IRS, please contact my office.
Here are some of the highlights from last month:
In celebration of César Chávez Day and his 95th birthday, I published an editorial in Latino Rebels calling on President Biden to deliver fair wages, a heat standard and justice for farmworkers. I am proud to be a sponsor of the Fairness for Farmworkers Act which provides farmworkers overtime pay like everyone else. I am also continuing to lead the efforts to pass a law to require workplace heat protection standards.
On Transgender Day of Visibility, I joined Reps. Katie Porter and Carolyn Maloney urging the Biden administration to collect accurate, high-quality, and reliable data on members of LGBTQI+ communities to ensure that lawmakers and federal agencies have the comprehensive data they need to address LGBTQI+ issues and to deliver effective programs, services, and policies. My LGBTQ Data Inclusion Act would make this into law.
At the end of March, I voted to pass a bill that would limit the cost of insulin to $35 a month for most people. While this was a great step forward for drug affordability, we still have work to do to protect uninsured individuals. I'll continue to fight for drug affordability and lower health costs for working families.
On April 4, I sent a letter to U.S. Customs and Border Protection (CBP) Commissioner Chris Magnus urging him to implement measures that would increase accountability and transparency within the agency.  The letter highlighted my expectations from CBP and the Biden administration and requested a number of changes to improve the agency's shortcomings. The full letter and list of recommendations can be found here.
On April 6, President Biden signed an executive order to bring down the cost of health insurance and expand health coverage for Arizonans. Thanks to Democratic leadership, health care is more affordable and accessible than ever before. Our American Rescue Plan dramatically lowered the cost of marketplace plans and helped enroll 200,000 Arizonans into quality, affordable coverage.
On April 7, the House passed much needed relief for small businesses across Arizona. The Relief for Restaurants and other Hard Hit Small Businesses Act will deliver $55 billion to replenish funding for restaurants and establish a new program supporting other small businesses impacted by the pandemic. No one has been hit harder than those businesses at the Arizona border whose economies were devastated by both the pandemic and cross-border closures. . This bill will ensure that those businesses that were disproportionately affected, like those in my district, receive the aid they need to bounce back stronger than ever.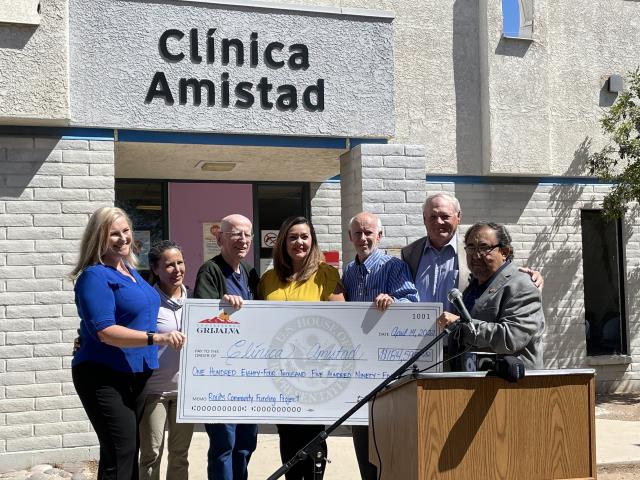 On April 14, I hosted a press conference with Clínica Amistad to present them with $184,545 in Community Project Funding. These funds will be used for new health equipment and workforce training.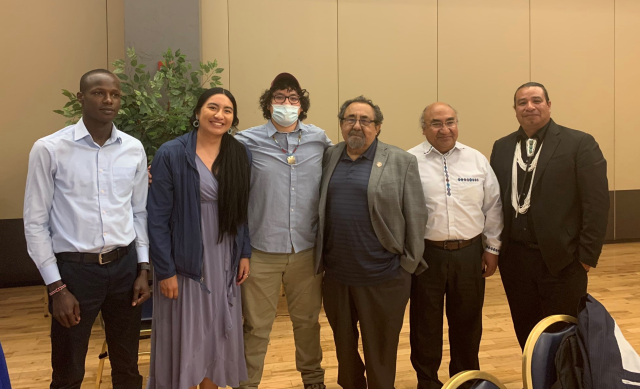 At the University of Arizona, on April 19, I addressed the United Nations Special rapporteur on the Rights of Indigenous Peoples about the need to codify tribal consultation in federal legislation, like my RESPECT Act, and the importance of tribal sovereignty.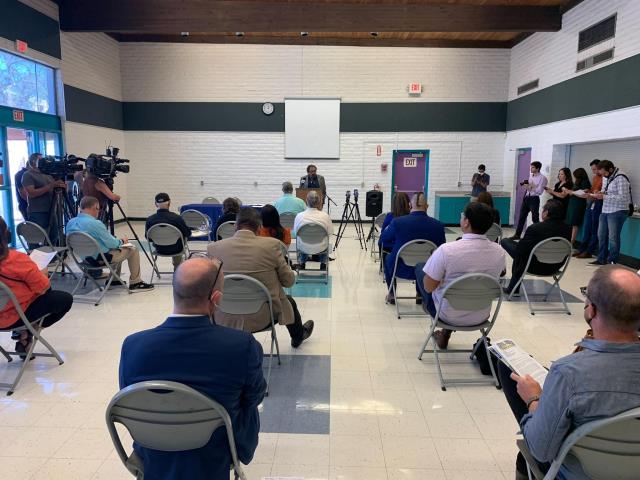 If you missed my community briefing on April 20 on the Environmental Justice for All Act, PFAS and updates on the Justice40 initiative, you can check out our recap video here. We held this community briefing with county, city, tribal and community leaders in Tucson to ask for their help and input as we move forward in addressing the impact of pollution in our community and how the federal government can respond through federal legislation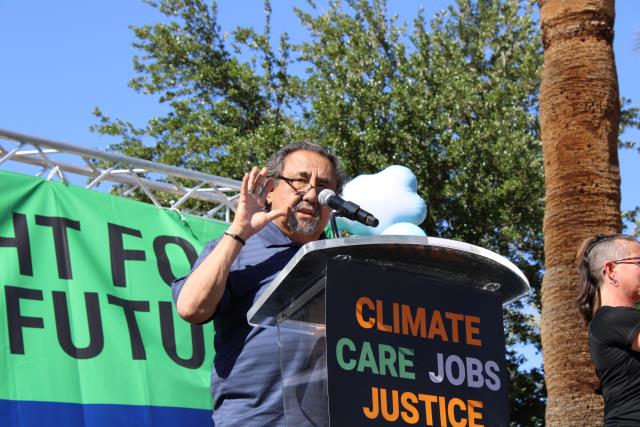 On April 23, in celebration of Earth Day, we rallied at the Arizona State Capitol and called on leaders in the U.S. Senate and across the country to deliver on climate change, energy, jobs and health. This fight isn't just about today. It's a fight for future generations.
Title 42 must end
Title 42 must come to an end. It is a public health policy that was weaponized by the Trump Administration in the guise of border policy. Title 42 was used as a part of his anti-immigrant hate and fear agenda that used the pandemic as an excuse to deny asylum seekers their legal rights to due process. The recently released Biden administration plan is a road map that provides a path forward. I will continue to work in Congress to pass comprehensive immigration solutions including: funding for humanitarian resources, personnel for migrant processing, aid for local organizations and localities on the ground, more personnel to adjudicate asylum claims and to address the longstanding transparency and accountability issues with CBP, and the backlog in our immigration system. As border policies are implemented, we must ensure that our approach is transparent and inclusive, prevents the further militarization and politicization of southern border communities which have caused damage to the people and businesses in the borderlands, and restore an orderly, welcoming, and just asylum system that preserves the uniqueness of the border region.
That's it for now. See you next month! 
Thanks for keeping up to date with my work on behalf of the communities across Arizona's Third District. It is an honor to serve as your representative in Congress, and I welcome your thoughts and input on current issues in Arizona and beyond. Feel free to visit my website for further details on legislative activity, press releases, constituent services, casework needs, and more. You can reach my DC Office at (202)-225-2435 or my Tucson Office at (520)-622-6788. Take care!
Peace,
---
El último mes ha sido ocupado y productivo.
Con el final de la temporada de impuestos, tenga cuidado con los estafadores. Mi oficina nunca llamará para cobrar dinero en nombre del IRS y le pido a usted a estar al tanto de las llamadas que se identifican como el IRS, los recursos de estafa de impuestos e informar cualquier incidente a la agencia de ley correspondiente. Para verificar el estado de su reembolso vaya aquí. Si tiene alguna pregunta o necesita ayuda adicional con el IRS, comuníquese con mi oficina.
Estos son algunos de los aspectos más destacados del mes pasado:
En celebración del Día de César Chávez y su cumpleaños número 95, publiqué un editorial en Latino Rebels pidiendo al presidente Biden que entregue salarios justos y justicia para los trabajadores agrícolas. Estoy orgulloso de ser un patrocinador de la Ley de Equidad para los Trabajadores Agrícolas que proporciona a los trabajadores agrícolas el pago de horas extras como todos los demás. También continúo liderando los esfuerzos para aprobar una ley que exija estándares de protección contra el calor en el lugar de trabajo.
En el Día de la Visibilidad Transgénero, me uní a las representantes Katie Porter y Carolyn Maloney instando a la administración Biden a recopilar datos precisos, de alta calidad y confiables sobre los miembros de las comunidades LGBTQI + para garantizar que los legisladores y las agencias federales tengan los datos completos que necesitan para abordar los problemas LGBTQI + y ofrecer programas, servicios y políticas efectivos. Es por eso que también presenté la Ley de Inclusión de Datos LGBTQ para recopilar esta información crítica.
A fines de marzo, voté para aprobar un proyecto de ley que limitaría el costo de la insulina a $35 al mes para la mayoría de las personas. Aunque fue un gran paso para la asequibilidad de los medicamentos, todavía tenemos trabajo por hacer para proteger a las personas sin seguro. Continuaré luchando por la asequibilidad de los medicamentos y los costos de salud más bajos para las familias trabajadoras.
El 4 de abril, envié una carta al comisionado de Aduanas y Protección Fronteriza de los Estados Unidos (CBP), Chris Magnus, instándolo a implementar medidas que aumentarían la responsabilidad y la transparencia dentro de la agencia. La carta destacó mis expectativas de CBP y la administración Biden y solicitó una serie de cambios para mejorar las deficiencias de la agencia. La carta completa y la lista de recomendaciones se pueden encontrar aquí.
El 6 de abril, el presidente Biden firmó una orden ejecutiva para reducir el costo del seguro de salud y ampliar la cobertura de salud para los arizonenses. Gracias al liderazgo demócrata, la atención médica es más asequible y accesible que nunca. Nuestro Plan de Rescate Americano redujo drásticamente el costo de los planes del mercado y ayudó a inscribir a 200,000 arizonenses en una cobertura asequible y de calidad.
El 7 de abril, la Cámara de Representantes aprobó un alivio muy necesario para las pequeñas empresas en todo Arizona. La Ley de Alivio para Restaurantes y otras Pequeñas Empresas Muy Afectadas entregará $ 55 mil millones para reponer los fondos para restaurantes y establecer un nuevo programa que apoye a otras pequeñas empresas afectadas por la pandemia. Nadie se ha visto más afectado que las empresas en la frontera de Arizona cuyas economías fueron devastadas tanto por la pandemia como por los cierres transfronterizos. Este proyecto de ley garantizará que aquellas empresas que se vieron afectadas de manera desproporcionada, como las de mi distrito, reciban la ayuda que necesitan para recuperarse más fuerte que nunca.
El 14 de abril, tuve una conferencia de prensa con Clínica Amistad para entregarles unos $184,545 de fondos de los Proyectos Financiados por la Comunidad. Estos fondos se usarán para equipo médico nuevo y entrenamiento de la fuerza laboral.
El 19 de abril, en la Universidad de Arizona, me dirigí al Relator Especial encargo de los derechos de los pueblos indígenas sobre la necesidad de codificar las consultas tribales en la legislación federal, como el RESPECT Act, y la importancia de la soberanía tribal.
Si se perdió mi sesión informativa comunitaria el 20 de abril sobre la Ley de Justicia Ambiental para Todos, PFAS y actualizaciones sobre la iniciativa Justice40, puede consultar nuestro video de resumen aquí. Celebramos esta sesión informativa comunitaria con líderes del condado, la ciudad, las tribus y la comunidad en Tucson para pedirles su ayuda y aportes a medida que avanzamos en el abordaje del impacto de la contaminación en nuestra comunidad y cómo el gobierno federal puede responder a través de la legislación federal.
El 23 de abril, en celebración del Día de la Tierra, nos reunimos en el Capitolio del Estado de Arizona y pedimos a los líderes en el Senado de los Estados Unidos y en todo el país que cumplan con el cambio climático, la energía, el empleo y la salud. Esta lucha no se trata solo de hoy. Es una lucha para las generaciones futuras.
El Título 42 debe terminar
El Título 42 debe llegar a su fin; es una política de salud pública que fue armada por la Administración Trump bajo el disfraz de política fronteriza. El Título 42 fue utilizado como parte de su agenda de odio y miedo antiinmigrante que utilizó la pandemia como excusa para negar a los solicitantes de asilo sus derechos legales al debido proceso. El plan de la administración Biden recientemente publicado es una hoja de ruta que proporciona un camino seguro. Continuaré trabajando en el Congreso para aprobar soluciones integrales de inmigración que incluyen: fondos para recursos humanitarios y personal para el procesamiento de migrantes y ayuda para organizaciones locales y localidades en el terreno, más personal para adjudicar solicitudes de asilo y para abordar los problemas de transparencia y rendición de cuentas de larga data con CBP y el atraso en nuestro sistema de inmigración. A medida que se implementan las políticas fronterizas, debemos asegurarnos de que nuestro enfoque sea transparente e inclusivo, evite una mayor militarización y politización de las comunidades fronterizas del sur que han causado daños a las personas y las empresas en las tierras fronterizas, y restaure un sistema de asilo ordenado, acogedor y justo que preserve la singularidad de la región fronteriza.
Eso es todo por ahora. ¡Nos vemos el mes que viene! Gracias por mantenerme al día con mi trabajo en todo el Tercer Distrito de Arizona. Es un honor servir como su representante en el Congreso, y doy la bienvenida a sus pensamientos y aportes sobre temas actuales en Arizona y más. No dude en visitar mi sitio web para obtener más detalles sobre la actividad legislativa, comunicados de prensa, servicios para constituyentes, necesidades de trabajo de casos y más. Puede comunicarse con mi oficina de DC al (202)-225-2435 o con mi oficina de Tucson al (520)-622-6788. ¡Cuídate!
Paz,