August Month in Review | Resumen del Mes de Agosto
La versión en español está a continuación.
August 2022
Following President Biden's historic announcement to forgive student loans, many are waiting in anxious anticipation of next steps. President Biden's Student Debt Relief Plan will provide up to $20,000 in debt cancellation to Pell Grant recipients with loans held by the Department of Education, and up to $10,000 in debt cancellation to non-Pell Grant recipients. The application for federal student loan forgiveness will open in early October. Visit the Department of Education website and select "Federal Student Loan Borrower Updates" to be notified when it does.
Here's our month in review.
August has been a busy district work period. I'm focused on delivering for the people of the 3rd District of Arizona and proud to highlight the accomplishments we've made this Congress.

Here's what I've been up to this month:
On August 3rd, the Senate passed the Sergeant First Class Heath Robinson Honoring our Promise to Address Comprehensive Toxics (PACT) Act, historic legislation expanding access to care for Arizona veterans exposed to toxic substances in the line of duty. I was a proud original cosponsor and thanks to Democrats and veterans organizations, the bill overcame widely-condemned Republican obstruction and was signed into law. This life-saving legislation extends critical VA benefits to as many as 3.5 million veterans across the country and will recognize toxic exposures as a cost of war that must be covered. Veterans can learn more about their benefits and the PACT Act here.
After speaking with humanitarian organizations and immigrant rights groups about instances of CBP agents confiscating and discarding migrants' personal property such as passports, birth certificates, medical records necessary for asylum cases as well as religious property on August 3rd, I led 22 members of Congress ​in sending a letter to U.S. Customs and Border Protection Commissioner (CBP) Chris Magnus and Acting Director of Immigration and Customs Enforcement (ICE) Tae D. Johnson regarding these reported incidents. The full letter can be found here. Additional reporting from The Arizona Luminaria revealed that CBP agents in the Yuma and Tucson Border Patrol Sectors are routinely confiscating and discarding Sikh turbans and other religious possessions belonging to asylum-seekers, on August 17th, I sent another letter with my colleagues to CBP demanding answers. This is an egregious violation of an individual's religious freedom and goes against the values of our nation.
On August 4th, I joined the City of Tucson Mayor Regina Romero and Environmental Protection Agency (EPA) Regional Administrator for a press event to highlight the selection of Tucson and Cochise County for EPA Brownfields Cooperative Agreements. The Brownfields program will continue to bring positive environmental and economic outcomes that I'll continue to support.
On August 5th, Rep. Ann Kirkpatrick (AZ-02) and I wrote in support of Department of Labor actions to address the Arizona Division of Occupational Safety and Health (ADOSH) failure to adopt a similar or higher standard than the Covid-19 Healthcare Emergency Temporary Standard (Covid-19 Healthcare ETS). ADOSH has yet to adopt the Covid-19 Healthcare ETS in full, unnecessarily placing Arizona's frontline health care workers and their patients at risk. Arizona is the only state in the nation that does have an acceptable minimum standard to protect its health workers from COVID-19 in effect. The full letter can be found here.
On August 11th, Secretary of Transportation Pete Buttigieg visited Tucson to highlight $25 million in federal funding for the 22nd Street Revitalization project. I worked hard to bring this project to district because it addresses significant needs of the region by adding traffic capacity to reduce commute times, end lengthy detours, and provides an East-West connection between downtown Tucson and other under-invested areas of our community. This project will improve traffic conditions while providing freight rail access which is critical to the movement of goods across the nation. More information here.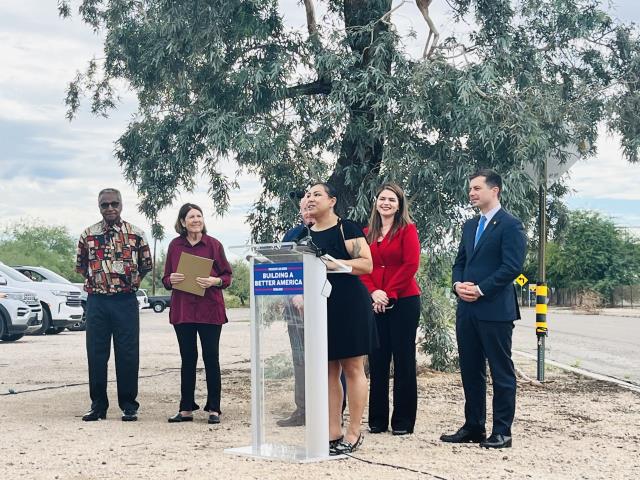 When I returned to Washington on August 12th, Democrats made history by passing the Inflation Reduction Act (IRA). Passed by Congress and signed by President Biden, the IRA takes on Big Pharma's price gouging, lowers prescription drug costs, including insulin, allows Medicare to negotiate prices, and provides premium support to working families to make health coverage affordable.

We are lowering costs through the largest climate and clean energy investment in history, paving the way for reduced pollution, cleaner air, and cost-saving electric vehicles, appliances, and solar power. And we're making a historic down payment on deficit reduction of approximately $300 billion, continuing to create good-paying jobs, and requiring corporations to pay their fair share. This is huge progress in the face of unanimous Republican opposition who continue to side with profits and politics over people and prosperity. My full statement on the IRA can be found here.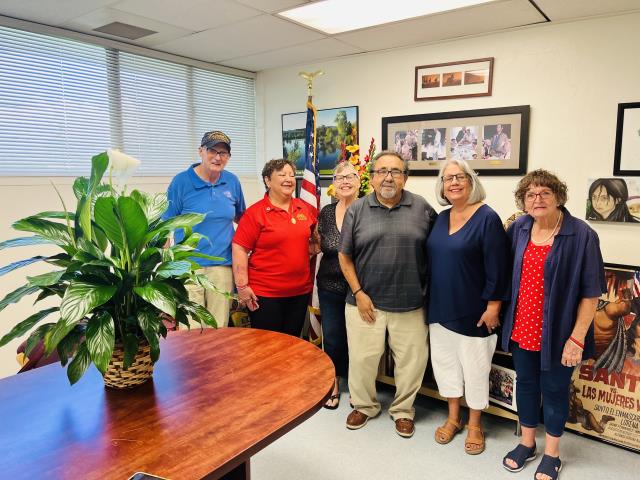 On August 16th I was honored to provide opening remarks for the National Farmworkers Job Program Conference. This conference brought together agencies from across the state who work with farmworkers on a variety of social issues including healthcare, immigration and employment.
On August 17th, the Arizona Alliance for Retired Americans stopped by our office to discuss how we can strengthen and protect Social Security. Throughout my time in Congress, I've worked to safeguard this important benefit and will continue to preserve and advance the long-term success of this vital program
President Biden announced on August 24th a historic student loan forgiveness for working and middle-class families. This action will ease financial strain for millions of borrowers with federal loans, especially those from families with lower incomes that had no choice but to take on massive debt to have a shot at getting a higher education. I'm continuing to fight to make higher education more affordable for current and future students. More information on the Student Debt Relief Plan can be found here.
On August 24th, I joined our partners in the Arizona-Sonora Desert Museum, the City of Tucson, Pima County, and the National Park Service for a press conference to highlight the funding I secured to help eradicate buffelgrass-infested acres in the Tucson Mountains. This federal funding will contribute to an ongoing, long-term, incremental effort to restore Tumamoc Hill and support the City of Tucson and Pima County Natural Resources Park and Recreation in their efforts to control buffelgrass in Sentinel Peak Park and Tucson Mountain Park. Buffelgrass, if left unchecked, will fuel larger, more frequent fires in the wildlands that surround the city of Tucson, impacting not just saguaros, but all native desert plants and the animals that depend on them.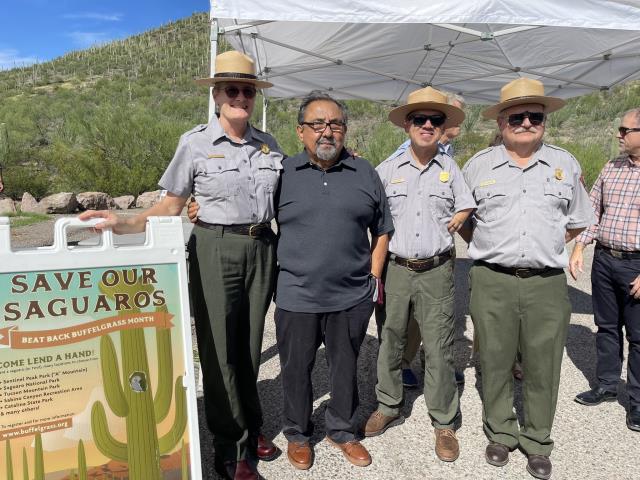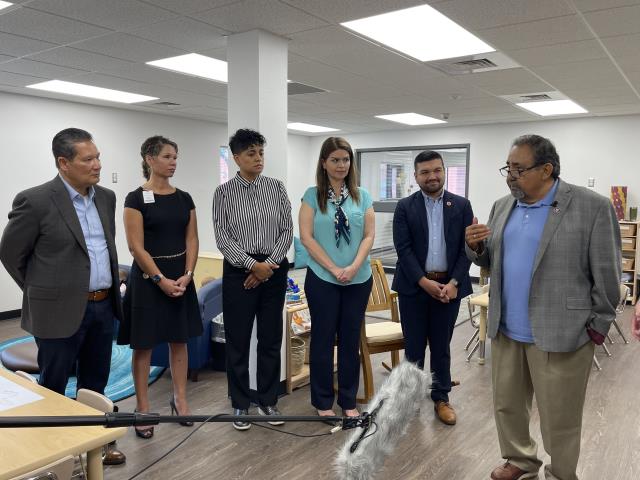 On August 25th, I was invited to be a panelist at this year's Native American Journalists Association's annual conference. During the conference I addressed Indigenous journalists from across the nation on my work as Chairman of the House Natural Resource Committee, including tribal sovereignty, protections for sacred sites such as the Grand Canyon and Oak Flat, and action on climate change.
I visited Pima Community College's new Early Learning Center on August 30th. The Center will offer eligible PCC students free child care. I am a strong supporter of the U.S. Department of Education's "Child Care Access Means Parents in School" (CCAMPIS) program which provided a grant for this center. This community partnership and early learning center will prepare kids from low-income and working families for their future education while their parents break down economic barriers as they work to achieve a higher education.
As the August district work period draws to a close, I am encouraged by the positive steps forward we have made this month for Arizona and the nation. I return to Washington for the September voting period bolstered by insights and input from the various community leaders, activists, local governments, and everyday Arizonans I have had the privilege of meeting with this month.
Until next time.
En Español
Agosto 2022
Tras el histórico anuncio del presidente Biden de perdonar los préstamos estudiantiles, muchos esperan los próximos pasos. El Plan de Alivio de la Deuda Estudiantil del presidente Biden proporcionará hasta $20,000 en cancelación de deuda con el Departamento de Educación a los beneficiarios de la Beca Pell (Pell Grant en inglés) y hasta $10,000 en cancelación de deuda a los beneficiarios que no haiga recibido la Beca Pell. La solicitud para aplicar al perdón de préstamos estudiantiles federales se abrirá a principios de octubre. Visite el sitio web del Departamento de Educación y seleccione "Actualizaciones de prestatarios de préstamos federales para estudiantes" para recibir una notificación cuando este disponible.
Agosto ha sido un período de mucho trabajo en el distrito. Estoy enfocado en cumplir con la gente del 3.er Distrito de Arizona y me enorgullece platicarles de los logros que hemos realizado este año en el Congreso.
Este mes, me he dedicado a lo siguiente:
El 3 de agosto, el Senado aprobó la Ley Sargento de Primera Clase Heath Robinson Honrando nuestra Promesa de Abordar los Tóxicos Integrales (PACT, por sus siglas en inglés). Es una ley histórica que amplía el acceso a la atención médica para los veteranos de Arizona expuestos a sustancias tóxicas en el cumplimiento del deber. Fui un orgulloso copatrocinador original de esta legislación y, gracias a los demócratas y las organizaciones de veteranos, el proyecto de ley superó la lucha en contra de ella por republicanos y se convirtió en ley. Esta legislación que salva vidas extiende los beneficios críticos del Departamento de Asuntos de Veteranos de los Estados Unidos a hasta 3.5 millones de veteranos en todo el país y reconocerá las exposiciones tóxicas como un costo de guerra que debe cubrir la aseguranza médica. Los veteranos pueden obtener más información sobre sus beneficios y la Ley PACT aquí.
Después de hablar con organizaciones humanitarias y grupos de derechos de inmigrantes sobre los actos cometidos por agentes de CBP en confiscar y desechar propiedad personal de inmigrantes, como pasaportes, certificados de nacimiento, registros médicos necesarios para casos de asilo y propiedad religiosa el 3 de agosto, lideré a 22 miembros del Congreso a enviar una carta al Comisionado de Aduanas y Protección Fronteriza de EE. UU. (CBP, por sus siglas en inglés) Chris Magnus y al Director Interino de Inmigración y Control de Aduanas (ICE, por sus siglas en inglés) Tae D. Johnson con respecto a estos incidentes reportados. La carta completa se puede encontrar aquí. Informes adicionales del noticiero The Arizona Luminaria revelaron que los agentes de la CBP en los sectores de la Patrulla Fronteriza de Yuma y Tucson confiscan y desechan rutinariamente turbantes sijes y otras posesiones religiosas que pertenecen a los solicitantes de asilo, el turbante es un artículo religioso de fe y proviene del sijismo que es una religión principalmente de países como India y Pakistán. El 17 de agosto, envié otra carta con mis colegas a la CBP exigiendo respuestas sobre esta violación de la libertad religiosa que va en contra de los valores de nuestra nación.
El 4 de agosto, me uní a la alcaldesa de la ciudad de Tucson, Regina Romero, y al administrador regional de la Agencia de Protección Ambiental (EPA, por sus siglas en inglés) en un evento de prensa para reconocer Tucson y el condado de Cochise como los lugares elegidos para los acuerdos de cooperación de terrenos baldíos de la EPA (Brownfields Cooperative Agreements, en inglés. El programa Brownfields continuará brindando resultados ambientales y económicos positivos que seguiré apoyando.
El 5 de agosto, la representante Ann Kirkpatrick (AZ-02) y yo escribimos una carta apoyando las acciones del Departamento de Trabajo para llamar la atención al hecho de que la División de Seguridad y Salud Ocupacional de Arizona (ADOSH, por sus siglas en inglés) no adoptó un estándar similar o más alto que el de Covid-19 Healthcare Norma Temporal de Emergencia (ETS Sanitarios Covid-19). ADOSH aún no adopta el ETS de atención médica de Covid-19 en su totalidad por lo que a innecesariamente puesto en riesgo a los trabajadores de atención médica de primera línea de Arizona y a sus pacientes. Arizona es el único estado de la nación que tiene un estándar mínimo aceptable para proteger a sus trabajadores de la salud del COVID-19. La carta completa se puede encontrar aquí.
El 11 de agosto, el Secretario de Transporte, Pete Buttigieg, visitó Tucson para anunciar $25 millones en fondos federales para el proyecto de Revitalización de la Calle 22. Trabajé duro para asegurarme que este proyecto se diera acabo en el distrito por las necesidades importantes de la región al agregar capacidad de tráfico para reducir los tiempos de viaje, terminar con los desvíos prolongados y proporciona una conexión entre el centro de Tucson y otras áreas de nuestra comunidad con poca inversión. Este proyecto mejorará las condiciones del tráfico y brindará acceso de carga, que es fundamental para el movimiento de mercancías en todo el país. Más información aquí.
Cuando regresé a Washington el 12 de agosto, los demócratas habían hecho historia al aprobar la Ley de Reducción de la Inflación (IRA, por sus siglas en inglés). Aprobada por el Congreso y firmada por el presidente Biden, la IRA se enfrenta al aumento de precios de las grandes farmacéuticas, reduce los costos de los medicamentos recetados, incluyendo la insulina, permite que Medicare negocie los precios y brinda apoyo premium a las familias trabajadoras para que la cobertura de salud sea disponible a todos.

Estamos reduciendo los costos a través de la mayor inversión en energía limpia y climática de la historia, abriendo el camino para reducir la contaminación, un aire más limpio y vehículos eléctricos, electrodomésticos y energía solar que ahorran costos.

Y estamos haciendo un pago inicial histórico para la reducción del déficit de aproximadamente $300 mil millones, continuamos creando buenos empleos y exigiendo que corporaciones paguen su parte justa. La Ley de Reducción de la Inflación es un progreso frente a la oposición republicana que continúa poniéndose del lado de las ganancias y la política sobre las personas y la prosperidad. Mi declaración completa sobre el IRA se puede encontrar aquí.
El 16 de agosto tuve el honor de brindar un discurso para la Conferencia Nacional del Programa de Trabajo para Trabajadores Agrícolas. Esta conferencia reunió a agencias de todo el estado que trabajan con trabajadores agrícolas en una variedad de temas sociales que incluyen atención médica, inmigración y empleo.
El 17 de agosto, la Alianza de Arizona para Estadounidenses Retirados pasó por nuestra oficina para analizar cómo podemos fortalecer y proteger el Seguro Social. A lo largo de mi tiempo en el Congreso, he trabajado para proteger este importante beneficio y continuaré preservando y promoviendo el éxito a largo plazo de este programa.
El presidente Biden anunció el 24 de agosto un histórico perdón de préstamos estudiantiles para familias trabajadoras y de clase media. Esta acción aliviará el cargo financiero de millones de prestatarios con préstamos federales, especialmente aquellos de familias con ingresos más bajos que no tuvieron más remedio que endeudarse masivamente para tener la oportunidad de obtener una mejor educación. Sigo luchando para que la educación después de la preparatoria sea más alcanzable para los estudiantes actuales y futuros. Puede encontrar más información sobre el Plan de Alivio de la Deuda Estudiantil aquí.
El 24 de agosto, me uní a nuestros socios en el Museo del Desierto de Arizona-Sonora, la ciudad de Tucson, el condado de Pima y el Servicio de Parques Nacionales en una conferencia de prensa para anunciar los fondos que obtuve para ayudar a eliminar acres infestados de pasto buffel en las montañas de Tucson. Este financiamiento federal contribuirá a un esfuerzo incremental que continuará a largo plazo para restaurar Tumamoc Hill y apoyar a la Ciudad de Tucson y al Parque de Recursos Naturales y Recreación del Condado de Pima en sus esfuerzos por controlar el pasto buffel en Sentinel Peak Park y Tucson Mountain Park. El pasto buffel, si no se controla, provocará incendios más grandes y frecuentes en las tierras silvestres que rodean la ciudad de Tucson, afectando no solo a los saguaros, sino a todas las plantas nativas del desierto y a los animales que dependen de ellas.
El 25 de agosto, me invitaron a platicar en la conferencia anual de la Asociación de Periodistas Nativos Americanos de este año (INSERTAR ENLACE A LA FOTO/VIDEO). Durante la conferencia, me dirigí a periodistas indígenas de todo el país sobre mi trabajo como presidente del Comité de Recursos Naturales de la Cámara de Diputados en EE. UU., incluida la independencia de las tribus, la protección de sitios sagrados como el Gran Cañón y Oak Flat, y la acción sobre el cambio climático.
Visité el nuevo Centro de Aprendizaje Temprano de Pima Community College (PCC) el 30 de agosto. El Centro ofrecerá a los estudiantes de PCC elegibles cuidado infantil gratuito. Soy un gran defensor del programa "Acceso al cuidado infantil significa padres en la escuela" (CCAMPIS, por sus siglas en inglés) del Departamento de Educación de EE. UU., que otorgó una donación para este centro. Esta asociación comunitaria y centro de aprendizaje temprano preparará a los niños de familias trabajadoras y de bajos ingresos para su educación futura mientras sus padres rompen las barr eras económicas trabajando para lograr una mejor educación.
El período de trabajo del distrito de agosto llega a su fin y me inspira los pasos positivos que hemos dado este mes para Arizona y la nación. Regreso a Washington para el período de votación de septiembre reforzado por las ideas y aportes de varios líderes comunitarios, activistas, gobiernos locales y arizonenses comunes con los que he tenido el privilegio de reunirme este mes.

Hasta la proxima vez,