March Month-in-Review | Resumen del Mes de Marzo

March 2022
La versión en español está a continuación.
This March we celebrated Women's History Month. I would like to recognize the tremendous efforts of the women in my office, and those across the country, as we work together for a stronger, more prosperous, and more equitable community. Here's some of what we've accomplished last month.
• On March 1, I was honored to invite my incredible staffer, Cassandra Becerra, a single, hardworking mother of three and former undocumented immigrant, as my Hometown Hero virtual guest to President Biden's State of the Union Address to Congress.
• On March 2, I voted to pass H.Res. 956 – Supporting the People of Ukraine, a bipartisan resolution which demands an immediate ceasefire and the withdrawal of Russian forces from Ukraine and unequivocally supports the people of Ukraine's fight to maintain their sovereignty, independence, and territorial integrity.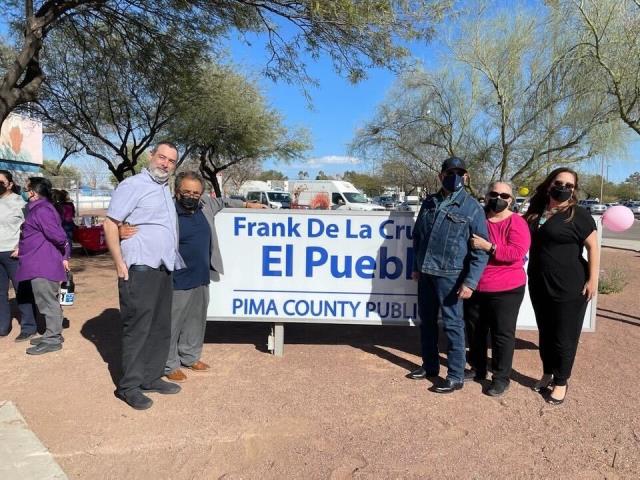 • I had the privilege to speak at the renaming celebration of the newly named Frank De La Cruz-El Pueblo Library on March 4. Frank managed the library for 21 years and was the heart and soul of the institution. He was extremely knowledgeable and a shining example of service and kindness in our community. I can think of no better way to honor the memory of the late, great Frank De La Cruz.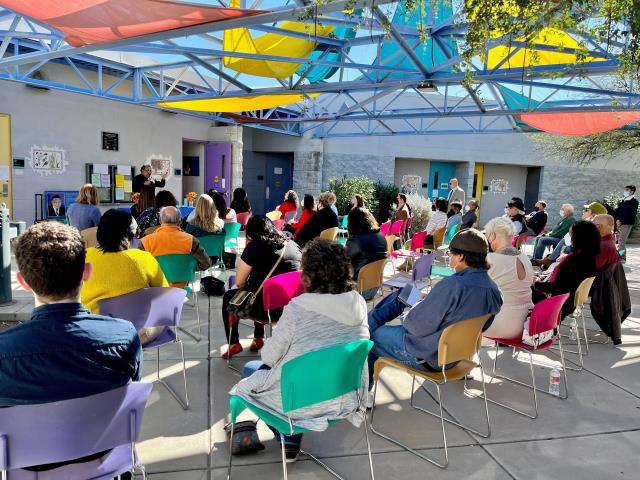 • On March 5, I visited the Pima Community College (PCC) adult education program, located at the El Pueblo Center, which provides individuals with the opportunity for an education at any stage in life. It was a pleasure to join PCC this weekend during its public forum to highlight and discuss the importance of lifelong learning and the benefits these centers bring to our community.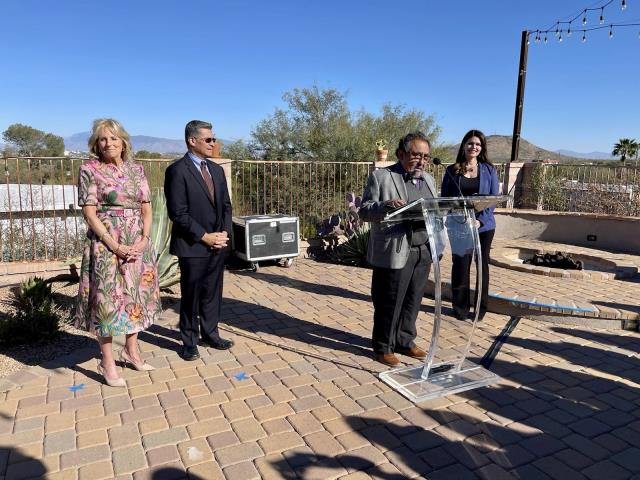 • I had the honor of welcoming First Lady of the United States Dr. Jill Biden and United States Secretary of Health and Human Services Xavier Becerra to Tucson, Arizona on March 8. As part of the Biden-Harris Administration's Cancer Moonshot initiative, they visited the San Xavier Health Center (SXHC) in the San Xavier District of the Tohono O'odham Nation to learn about the Tohono O'odham Nation's cancer program and patient services, including those provided in partnership with the University of Arizona Cancer Center. Read more about the visit here.
• I joined my Democratic colleagues in funding the government by passing H.R. 2471 on March 10. This crucial bill consists of all 12 fiscal year 2022 appropriations bills and supplemental funding to support Ukraine. The bill's transformative investments will help working families with the cost of living, make education more affordable, transition to clean energy, create jobs, and tackle the climate crisis. It also includes $6,284,057 for Community Funded Projects for the 3rd District of Arizona.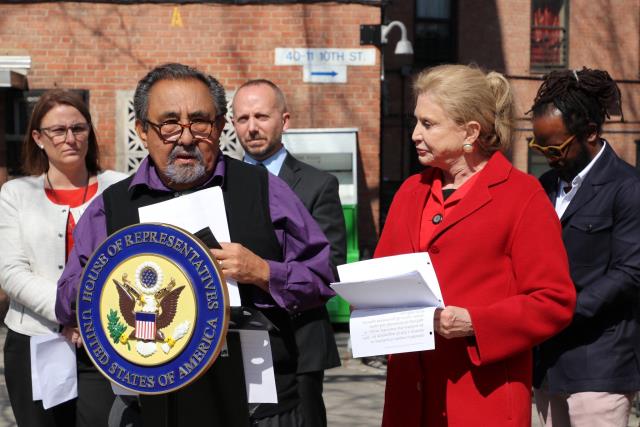 • I spent March 11 and 12 in New York City with Chairwoman Carolyn B. Maloney (D-NY12) gathering input for my Environmental Justice for All bill, kicking off a nationwide tour of environmental justice communities that will continue shaping this comprehensive legislation before it goes to committee markup, the next big step in the legislative process. We visited communities that have been subjected to a long history of racist, unjust policies and proposals, and heard from community leaders that have been at the forefront of battling this environmental injustice. You can read more about our trip here.
• On March 23, my office hosted a tax information webinar to answer constituents' questions regarding the 2021 tax filing season. We heard useful input from Brian Wozniak of IRS Legislative Affairs, and Andrew M. Sugrue, Assistant Director of Policy & Advocacy, Arizona Center for Economic Progress.
As Putin's invasion of Ukraine continues, fossil fuel industry takes advantage 
Putin's violent invasion of Ukraine has entered its second month. I am deeply saddened by the refugee crisis and the continuation of such brutal and senseless violence. I was encouraged by President Biden's recent announcement that the US would admit 100,000 Ukrainian refugees, and I hope that this trend continues for refugees from other war-stricken countries. We must do everything within our power to provide safe haven for our Ukrainian brothers and sisters while ensuring that this war ends as quickly as possible. To that end, I applaud President Biden's decision to ban imports of Russian gas and oil, as well as further sanctions on Russian oligarchs to stifle Putin's invasion. I supported a similar measure in the House earlier this month, which bans energy imports from Russia. I recently published an opinion piece in The Guardian sharply criticizing the fossil fuel industry for its blatant opportunism during Russia's tragic invasion of Ukraine. As Chairman of the Natural Resource Committee I'm pushing to crackdown on gas price gouging, and speed up the transition to reliable renewable energy. I scheduled he hearing to examine the fossil fuel industry's failure to help stabilize gas prices, but the companies refused to testify. Their silence tells us all we need to know —cries for more drilling and looser regulations are nothing more than another age-old attempt to line their own pockets. 
That's it for now. See you next month! 
Thanks for keeping up to date with my work on behalf of the communities across Arizona's Third District. It is an honor to serve as your representative in Congress, and I welcome your thoughts and input on current issues in Arizona and beyond. Feel free to visit my website for further details on legislative activity, press releases, constituent services, casework needs, and more. You can reach my DC Office at (202)-225-2435 or my Tucson Office at (520)-622-6788. Take care!
Peace,


Marzo 2022
Este mes de marzo celebramos el Mes de la Historia de la Mujer.  Me gustaría reconocer los tremendos esfuerzos de las mujeres en mi oficina, y de las de todo el país, mientras trabajamos juntos por una comunidad más fuerte, más próspera y más equitativa. Esto es algo de lo que hemos logrado el mes pasado.
• El 1 de marzo, tuve el honor de invitar a mi increíble empleada, Cassandra Becerra, una madre soltera y trabajadora de tres hijos y ex inmigrante indocumentada, como mi invitada virtual Hometown Hero al Discurso del Estado de la Unión del Presidente Biden ante el Congreso.
• El 2 de marzo, voté para aprobar la H.Res. 956 – Apoyo al Pueblo de Ucrania, una resolución bipartidista que exige un alto el fuego inmediato y la retirada de las fuerzas rusas de Ucrania y apoya inequívocamente la lucha del pueblo de Ucrania para mantener su soberanía, independencia e integridad territorial.
• Tuve el privilegio de hablar en la celebración del cambio de nombre de la recién nombrada Biblioteca Frank De La Cruz-El Pueblo el 4 de marzo. Frank dirigió la biblioteca durante 21 años y fue el corazón y el alma de la institución. Él era extremadamente conocedor y un brillante ejemplo de servicio y amabilidad en nuestra comunidad. No se me ocurre mejor manera de honrar la memoria del difunto y gran Frank De La Cruz.
• El 5 de marzo, visité el programa de educación para adultos de Pima Community College (PCC), ubicado en el Centro El Pueblo, que brinda a las personas la oportunidad de una educación en cualquier etapa de la vida. Fue un placer unirme a PCC este fin de semana durante su foro público para resaltar y discutir la importancia del aprendizaje a lo largo de toda la vida y los beneficios que estos centros aportan a nuestra comunidad.
• Tuve el honor de dar la bienvenida a la Primera Dama de los Estados Unidos, la Dra. Jill Biden, y al Secretario de Salud y Servicios Humanos de los Estados Unidos, Xavier Becerra, a Tucson, Arizona, el 8 de marzo. Como parte de la iniciativa Cancer Moonshot de la Administración Biden-Harris, visitaron el Centro de Salud San Xavier (SXHC) en el Distrito de San Xavier de la Nación Tohono O'odham para aprender sobre el programa de cáncer de la Nación Tohono O'odham y los servicios para pacientes, incluidos los proporcionados en asociación con el Centro oncológico de la Universidad de Arizona. Lea más sobre la visita aquí.
• Me uní a mis colegas demócratas para financiar al gobierno al aprobar H.R. 2471 el 10 de marzo. Este proyecto de ley crucial consiste en los 12 proyectos de ley de asignaciones del año fiscal 2022 y fondos suplementarios para apoyar a Ucrania. Las inversiones transformadoras del proyecto de ley ayudarán a las familias trabajadoras con el costo de vida, harán que la educación sea más asequible, harán la transición a la energía limpia, crearán empleos y abordarán la crisis climática. También incluye $6,284,057 para Proyectos Financiados por la Comunidad para el 3er Distrito de Arizona.
• Pasé el 11 y 12 de marzo en la ciudad de Nueva York con la presidenta Carolyn B. Maloney (D-NY12) reuniendo aportes para mi  proyecto de ley de Justicia Ambiental para Todos, iniciando una gira nacional de comunidades de justicia ambiental que continuará dando forma a esta legislación integral antes de que vaya al marcado del comité, el próximo gran paso en el proceso legislativo. Visitamos comunidades que han sido sometidas a una larga historia de políticas y propuestas racistas e injustas, y escuchamos a líderes comunitarios que han estado a la vanguardia de la lucha contra esta injusticia ambiental. Puedes leer más sobre nuestro viaje aquí.
• El 23 de marzo, mi oficina organizó un seminario web de información tributaria para responder a las preguntas de los electores sobre la temporada de impuestos de 2021. Escuchamos aportes útiles de Brian Wozniak de Asuntos Legislativos del IRS, y Andrew M. Sugrue, Subdirector de Políticas y Defensa, Centro de Arizona para el Progreso Económico.
A medida que continúa la invasión de Putin a Ucrania, la industria de los combustibles fósiles se aprovecha
La violenta invasión de Putin a Ucrania ha entrado en su segundo mes. Me entristece profundamente la crisis de refugiados y la continuación de una violencia tan brutal y sin sentido. Me sentí alentado por el reciente anuncio del presidente Biden de que Estados Unidos admitiría a 100.000 refugiados ucranianos, y espero que esta tendencia continúe para los refugiados de otros países afectados por la guerra. Debemos hacer todo lo que esté a nuestro alcance para proporcionar refugio seguro a nuestros hermanos y hermanas ucranianos, al tiempo que garantizamos que esta guerra termine lo más rápido posible. Con ese fin, aplaudo la decisión del presidente Biden de prohibir las importaciones de gas y petróleo rusos, así como nuevas sanciones a los oligarcas rusos para sofocar la invasión de Putin. A principios de este mes, apoyé una medida similar en la Cámara, que prohíbe las importaciones de energía de Rusia.Recientemente publiqué un artículo de opinión en The Guardian criticando duramente a la industria de los combustibles fósiles por su descarado oportunismo durante la trágica invasión rusa de Ucrania.  Como presidente del Comité de Recursos Naturales, estoy presionando para tomar medidas enérgicas contra el aumento de los precios del gas y acelerar la transición a una energía renovable confiable.  Programé una audiencia para examinar el fracaso de la industria de los combustibles fósiles para ayudar a estabilizar los precios del gas, pero las compañías se negaron a testificar. Su silencio nos dice todo lo que necesitamos saber: los gritos por más perforación y regulaciones más flexibles no son más que otro intento antiguo de llenarse los bolsillos.
Eso es todo por ahora. ¡Nos vemos el mes que viene!
Gracias por mantenerme al día con mi trabajo en nombre de las comunidades en el Tercer Distrito de Arizona. Es un honor servir como su representante en el Congreso, y doy la bienvenida a sus pensamientos y aportes sobre temas actuales en Arizona y más allá. No dude en visitar mi sitio web para obtener más detalles sobre la actividad legislativa, comunicados de prensa, servicios para constituyentes, necesidades de trabajo de casos y más. Puede comunicarse con mi oficina de DC al (202)-225-2435 o con mi oficina de Tucson al (520)-622-6788. ¡Cuídate!
Paz,