September Month in Review | Resumen del Mes de Septiembre
La versión en español está a continuación.
September 2022
Each year, September is highlighted as Suicide Prevention & Awareness Month – a time to bring greater awareness surrounding mental and behavioral health and to spread the word about the resources that are available to individuals needing help. If you or someone you know is struggling with a crisis, help is available 24/7; call or text 988 to be connected with the Suicide and Crisis Lifeline.

After a month-long district work period, September brought me back to Washington, D.C. where we continue our work for the people of Southern Arizona.
Here's our month in review for September: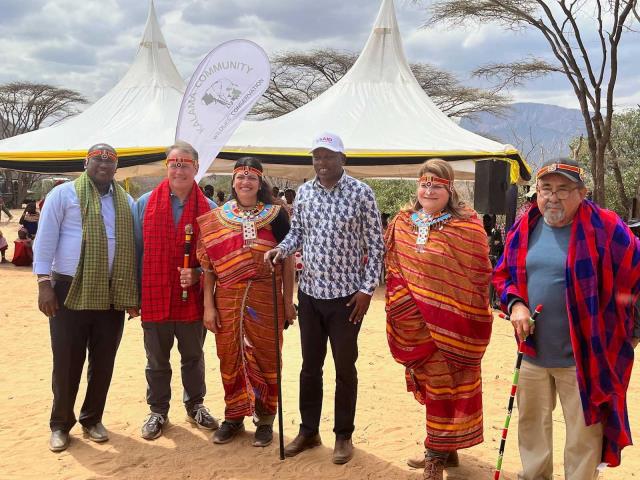 I kicked off September by leading a Natural Resources Committee congressional delegation to Africa. Myself along with Congresswoman Jenniffer González Colón (PR), Congressman Edward Case (HI), Congressman Gregorio Kilili Camacho Sablan (NMI), and Congresswoman Rashida Tlaib (MI) traveled to Ghana and Kenya. We discussed wildlife trafficking, international conservation, and illegal, unreported, and unregulated fishing issues with local officials and stakeholders.
On September 6th, I was proud to announce additional funding of $297,600 for Pima Community College's Veteran Upward Bound Program. With this funding, the program will aim to serve an additional 125 veterans from Pima and Santa Cruz Counties.
In response to Senator Joe Manchin's attempt to attach a dirty permitting reform deal to the government funding process, I led a letter along with 77 other members to House Leadership strongly opposing this deal which would harm the environment.
On September 9th, the Biden Administration rescinded the Trump-Era Public Charge rule that target undocumented immigrants and impeded foreigners from obtaining legal permanent residency and visas. I was grateful the Administration heeded the call of advocates and many in Congress to abolish this inherently xenophobic policy.
After reports of several fatal vehicle-related crashes involving U.S. Customs and Border Patrol agents, on September 14th Rep. Veronica Escobar (TX-16) and I co-led a letter to U.S. Customs and Border Protection Commissioner Chris Magnus and Deputy Commissioner Troy Miller requesting the agency revise their vehicle pursuit policy. To read the full letter click here.
On September 15th, I was proud join my colleagues Rep. Robert Scott (VA-03) and Rep. Frederica Wilson (FL-24) from House Education & Labor Committee on introducing the Lowering Obstacles to Achievement Now (LOAN) Act. This legislation will benefit current and future students to access increased federal Pell Grants, improvements to the Public Service Loan Forgiveness program, expanding access to subsidized loans, and lower interest rates.
On September 20th, I urged Arizona Superintendent Kathy Hoffman to swiftly use federal funds awarded from the Safer Communities Act law, which was signed into law after the mass shooting in Uvalde. This federal funding for Arizona's schools is a step towards meaningful gun safety to keep our children and teachers safe. As Arizona distributes this funding, I encouraged Superintendent Hoffman to adhere to the standards set forth by the Department of Education and Congressional intent.
On September 22nd, I was on honored to be recognized as this year's Champion of Adult Basic Education by the Coalition on Adult Basic Education. I am humbled to have been given this honor and will continue to advocate to address needs of career opportunities and technical adult learners throughout Arizona.
In advance of the White House conference on nutrition, I introduced the Education and Training (EAT) for Health Act with Rep. James McGovern (MA-02). Disease prevention is critical to controlling the sky-high costs of healthcare in our country. The EAT for Health Act will increase nutrition education and awareness for healthcare professionals and ensure federal primary care health professionals have continued education courses relating to nutrition. You can learn more about this bill here.
On September 28th, I announced that Arizona Community Action Association was a recipient of the Diaper Distribution Demonstration and Research Pilot grant. They were awarded $1.2 million that will go towards initiatives to increase wellness, security and independence of families throughout Southern Arizona.
After the Department of Labor issued clarification on how immigrants can assert their rights in the workplace, on September 29th I joined members in the House in sending a letter to the Department of Homeland Security urging they protect immigrant workers' right in the workplace. Click here to read the full letter.
In Arizona a women's right to choose to have an abortion was taken away due to Arizona Republicans' effort to reinstate a 158-year-old draconian abortion ban. This law that has no exceptions, including in cases of rape and incest, has made women in Arizona second class citizens and has created confusion over which state abortion law is in effect. After the court's decision to allow the 158-year-old ban to stand, I renewed the call to my colleagues in Congress to codify women's reproductive rights on a federal level.
As September came to a close, we celebrated the passage of the Continuing Resolution to fund the government and avoid a shutdown without the inclusion of the permitting reforms side deal that could have had detrimental impacts to our environment and our communities hardest hit by climate change. The exclusion of permitting reform is a significant victory for our environmental justice communities. I was proud the lead the effort to defeat this dirty deal and applaud the advocacy of climate and environmental organizations and Members in the House and Senate who opposed Sen. Manchin's permitting reform legislation.

As always, it's an honor to serve and represent the people of Congressional District 3 in Congress. Feel free to visit my website for further details on legislative activities, press releases, constituent services, help with a federal agency and more. You can reach my Washington, D.C. office at 202-225-2435 or my Tucson office at 520-622-6788.
Peace,
En Español
Septiembre 2022
Cada año, septiembre se destaca como el Mes de la Prevención y Concientización sobre el Suicidio. Es un momento para crear una mayor conciencia sobre la salud mental y conductual y para discutir los recursos que están disponibles para las personas que necesitan ayuda. Si usted o alguien que conoce está luchando con una crisis, la ayuda está disponible las 24 horas del día, los 7 días de la semana; llame o envíe un mensaje de texto al 988 para conectarse con la Línea de Vida de Suicidio y Crisis.

Después de un período de trabajo en Arizona, septiembre me trajo de regreso a Washington, D.C., donde continuamos nuestro trabajo para la gente del sur de Arizona.

Aquí está nuestro mes en revisión para septiembre:
Comencé septiembre encabezando una delegación del Congreso del Comité de Recursos Naturales a África. Yo junto con la congresista Jenniffer González Colón (PR), el congresista Edward Case (HI), el congresista Gregorio Kilili Camacho Sablan (NMI) y la congresista Rashida Tlaib (MI) viajamos a Ghana y Kenia. Discutimos el tráfico de vida silvestre, la conservación internacional y los problemas de pesca ilegal, no declarada y no regulada con funcionarios locales y partes interesadas.
El 6de septiembre, me enorgullecí de anunciar fondos adicionales de $297,600 para el Programa de veteranos en Pima Community College. Con este financiamiento, el programa tendrá como objetivo servir a 125 veteranos adicionales de los condados de Pima y Santa Cruz.
En respuesta al intento del senador Joe Manchin de adjuntar un sucio acuerdo de reforma de permisos al proceso de financiamiento del gobierno, dirigí una carta junto con otros 77 miembros al liderazgo de la Cámara de Representantes oponiéndome firmemente a este acuerdo que dañaría el medio ambiente.
El 9de septiembre, la Administración Biden rescindió la regla de carga pública de la era Trump que apuntaba a los inmigrantes indocumentados e impedía que los extranjeros obtuvieran residencia permanente legal y visas. Agradecí que la Administración atendiera el llamado de los defensores y muchos en el Congreso para abolir esta política inherentemente xenófoba.
Después de los informes de varios accidentes fatales relacionados con vehículos que involucraron a agentes de aduanas y patrulla fronteriza de los Estados Unidos, el 14 de septiembre, la representante Veronica Escobar (TX-16) y yo codirigimos una carta al Comisionado de Aduanas y Protección Fronteriza de los Estados Unidos, Chris Magnus, y al Comisionado Adjunto Troy Miller solicitando que la agencia revisara la política de persecución de vehículos. Para leer la carta completa haga clic aquí.
El 15de septiembre, me junte con mis colegas, el representante Robert Scott (VA-03) y la representante Frederica Wilson (FL-24) del Comité de Educación y Trabajo de la Cámara de Representantes, para presentar la Ley de Reducción de Obstáculos al Logro Ahora (LOAN). Esta legislación beneficiará a los estudiantes actuales y futuros para acceder a mayores Becas Pell federales, mejoras al programa de Perdón de Servicios Públicos, ampliación del acceso a préstamos subsidiados y tasas de interés más bajas.
El 20 de septiembre, insté a la superintendente de Arizona, Kathy Hoffman, a usar rápidamente los fondos federales otorgados por la ley de Comunidades Más Seguras, que se convirtió en ley después del tiroteo masivo en Uvalde. Este financiamiento federal para las escuelas de Arizona es un paso hacia una seguridad significativa con las armas para mantener seguros a nuestros niños y maestros. A medida que Arizona distribuye estos fondos, alenté a la Superintendente Hoffman a adherirse a los estándares establecidos por el Departamento de Educación y la intención del Congreso.
El 22de septiembre, tuve el honor de ser reconocido como el Campeón de la Educación Básica de Adultos de este año por la Coalición sobre Educación Básica de Adultos. Me siento honrado de haber recibido este honor y continuaré abogando para abordar las necesidades de oportunidades de carrera y estudiantes adultos técnicos en todo Arizona.
Antes de la conferencia de la Casa Blanca sobre nutrición, presenté la Ley de Educación y Capacitación (EAT) para la Salud con el representante James McGovern (MA-02). La prevención de enfermedades es fundamental para controlar los altísimos costos de la atención médica en nuestro país. La Ley EAT para la Salud aumentará la educación nutricional y la concientización de los profesionales de la salud y garantizará que los profesionales de la salud de atención primaria federales tengan cursos de educación continua relacionados con la nutrición. Puede obtener más información sobre este proyecto de ley aquí.
El 28de septiembre, anuncié que la Asociación de Acción Comunitaria de Arizona recibió la subvención piloto de demostración e investigación de distribución de pañales. Se les otorgó $ 1.2 millones que se destinarán a iniciativas para aumentar el bienestar, la seguridad y la independencia de las familias en todo el sur de Arizona.
Después de que el Departamento de Labor emitió una aclaración sobre cómo los inmigrantes pueden hacer valer sus derechos en el lugar de trabajo, el29 de septiembre me uní a los miembros de la Cámara de Representantes para enviar una carta al Departamento de Seguridad Nacional instando a que protejan los derechos de los trabajadores inmigrantes en el lugar de trabajo. Haga clic aquí para leer la carta completa.
En Arizona, el derecho de las mujeres a elegir abortar fue eliminado debido al esfuerzo de los republicanos de Arizona para restablecer una prohibición draconiana del aborto de 158 años de antigüedad. Esta ley que no tiene excepciones, incluso en casos de violación e incesto, ha convertido a las mujeres en Arizona en ciudadanas de segunda clase y ha creado confusión sobre qué ley estatal de aborto está en vigor. Después de la decisión de la corte de permitir que la prohibición de 158 años de antigüedad se mantuviera, renové el llamado a mis colegas en el Congreso para codificar los derechos reproductivos de las mujeres al nivel federal.
Mientras que septiembre llegaba a su fin, celebramos la aprobación de la Resolución Continua para financiar al gobierno y evitar un cierre sin la inclusión del acuerdo paralelo de reformas de permisos que podría haber tenido impactos perjudiciales para nuestro medio ambiente y nuestras comunidades más afectadas por el cambio climático. La exclusión de la reforma de los permisos es una victoria significativa para nuestras comunidades de justicia ambiental. Me sentí orgulloso de liderar el esfuerzo para derrotar este acuerdo sucio y aplaudo la defensa de las organizaciones climáticas y ambientales y los miembros de la Cámara de Representantes y el Senado que se opusieron a la legislación de reforma de permisos del senador Manchin.

Como siempre, es un honor servir y representar a la gente del Distrito 3 en el Congreso. Favor de visitar mi sitio de red para obtener más detalles sobre actividades legislativas, comunicados de prensa, servicios para constituyentes, ayuda con una agencia federal y más. Puede comunicarse con mi oficina de Washington, D.C. al 202-225-2435 o con mi oficina de Tucson al 520-622-6788.
Paz,